100+ open source innovation tools from the greatest design & strategy agencies in the world.
​
Ideal for both offline or online workshops. All tools are pixel perfectly packaged in a vectorized PDF or PNG and can be downloaded for free.

Let the DesignLoop guide you on your journey to design amazing solutions for complex problems.
​
DesignKit.
We collect the best. You design the rest.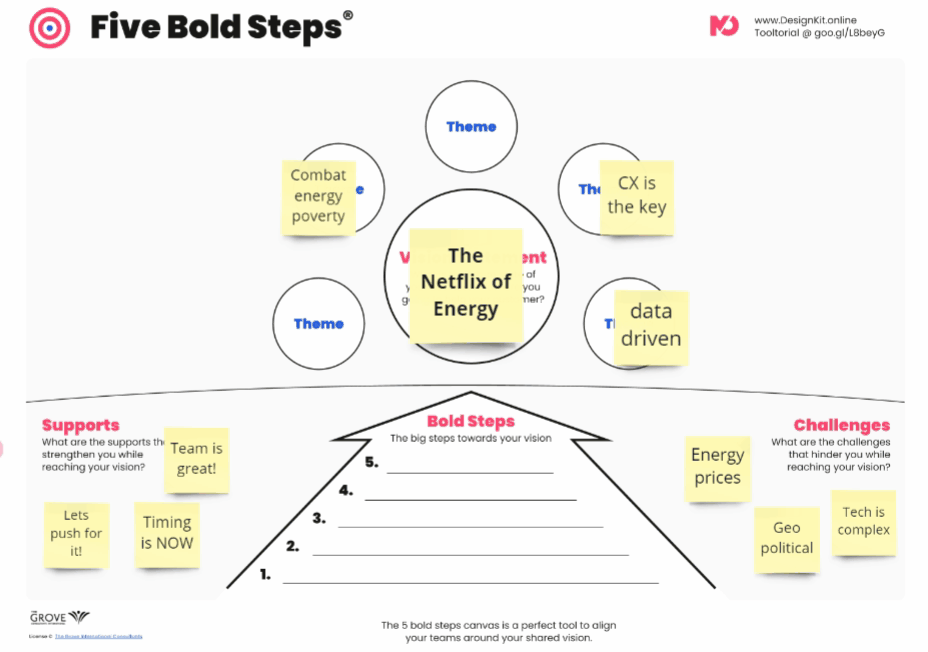 The heart of DesignKit is the DesignLoop. It's a 10-step methodology to design breakthrough change. Inspired by the Double Diamond and Design a Better Business.

Each step comes with a set of tools and a hero to inspire and guide you on your design journey.
Download DesignKit

It's a beautiful (vector) PDF with 100+ tools
ready for use!
Print or upload tools
​
Print on A2 or A1 or upload the tools to
your Miro board (eg.)
Follow the DesignLoop

Let the DesignLoop guide you on your innovation journey
Design a breakthrough!
​
Gather your team
and get started on designdoing together
No sign-up. Just a few quick questions!
How can I use DesignKit?

Either you download the tools and print them to use in a physical workshop with sticky notes or upload them to your whiteboard tool of choice like Miro.

What is a good way to start?

It all depends on your challenge and situation. It's never too late to use the DesignLoop. It could be your project is not going well and you really feel you should do more Research and spend more time to truly Understand your customers. Use the DesignLoop to take a few step backs before you continue the loop. If you are starting a big project; great! Use the Team Charter Canvas from the Prepare fase to lay the foundation with your team in a social contract. Then create the biggest and most inspiring vision for your future with the Cover Story canvas from the Point of View fase. Prioritize your goals in the Design Criteria Canvas and then start your research!

How to blend online and offline workshop?

If possible always try to have a physical workshop with your team. We usually print some tools on A3 and use baby sticky notes together. Afterwards use the app CamScammer to get high quality cleaned up pics of your output and upload these to your Miro board or recreate them digitally.

Why should I get a custom DesignKit?

The past 5+ years we have run dozens and dozens of workshops and set-up multiple design labs in organizations. It is astonishing to see what happens to adoption if you use your own kit in your colors with your name and your logo. People get excited and proud to use and this lowers the bar to start tremendously. For €99 you can get the source file and modify it to create your own kit. Or starting from €249 we can help you create a complete custom kit for your organization or business.